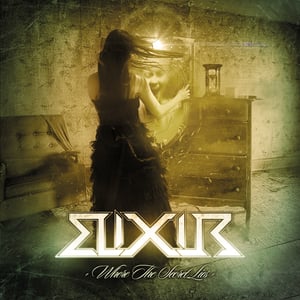 $

3.98 - On Sale
ELIXIR - Where The Secret Lies (CD MMR027 - Released 2017) ORDER NOW! SPECIAL INTRODUCTORY PRICE!
Power Metal Band ELIXIR may be South America's best kept secret! "Where the Secret Lies" is their sophomore release after their highly praised 2012 debut "Unleash the Magic". Hailing from Montevideo, Uruguay this 5-member band formed in 2009 are already established as the #1 power metal band representing their home country. ELIXIR are considered as one of the strongest South American bands within the melodic power metal genre, with the most potential to break out to an extensive worldwide audience.
"Where the Secret Lies" is a powerful tour-de-force, with excellent song writing, highly skilled musicianship, a fantastic singer with an amazing voice, and great melodies with sing along choruses, intended for big stadiums.
The album contains a healthy dose of speedy power tracks, with the right combination of fast-paced commercially accessible melodic metal songs, that can be played on any metal or rock format radio stations.
Even fans of prog power will treasure this album!
"Where The Secret Lies" is a must have for any headbanger's collection!
RIYL: Stratovarius, Sonata Arctica, Blind Guardian, Symphony X, Helloween, Dragonforce, Iron Maiden, Angra,etc.
ELIXIR have already shared the stage with Sonata Arctica, Epica & Mark Boals in their home country.
Deluxe Jewel case CD w/16-page booklet containing band member photos & Lyrics.
"A very professional package with outstanding artwork, and a powerful, modern sound production"
Album produced by ELIXIR. Recorded, mixed, and mastered by Sebastian Vera at Sound Works Studio, Montevideo, Uruguay.
Artwork conceived by Abstract Chaos Design.
TRACK LISTING – approx. running time 44 min.
1. World is Not Over
2. Broken Heart
3. Beyond Dreams
4. Everlasting Soul
5. You'll Never Walk Alone
6. Rising Star
7. The Sailor Song
8. Where the Secret Lies
9. Have You Ever Felt This Way
10. Release Myself
11. Southern Pride